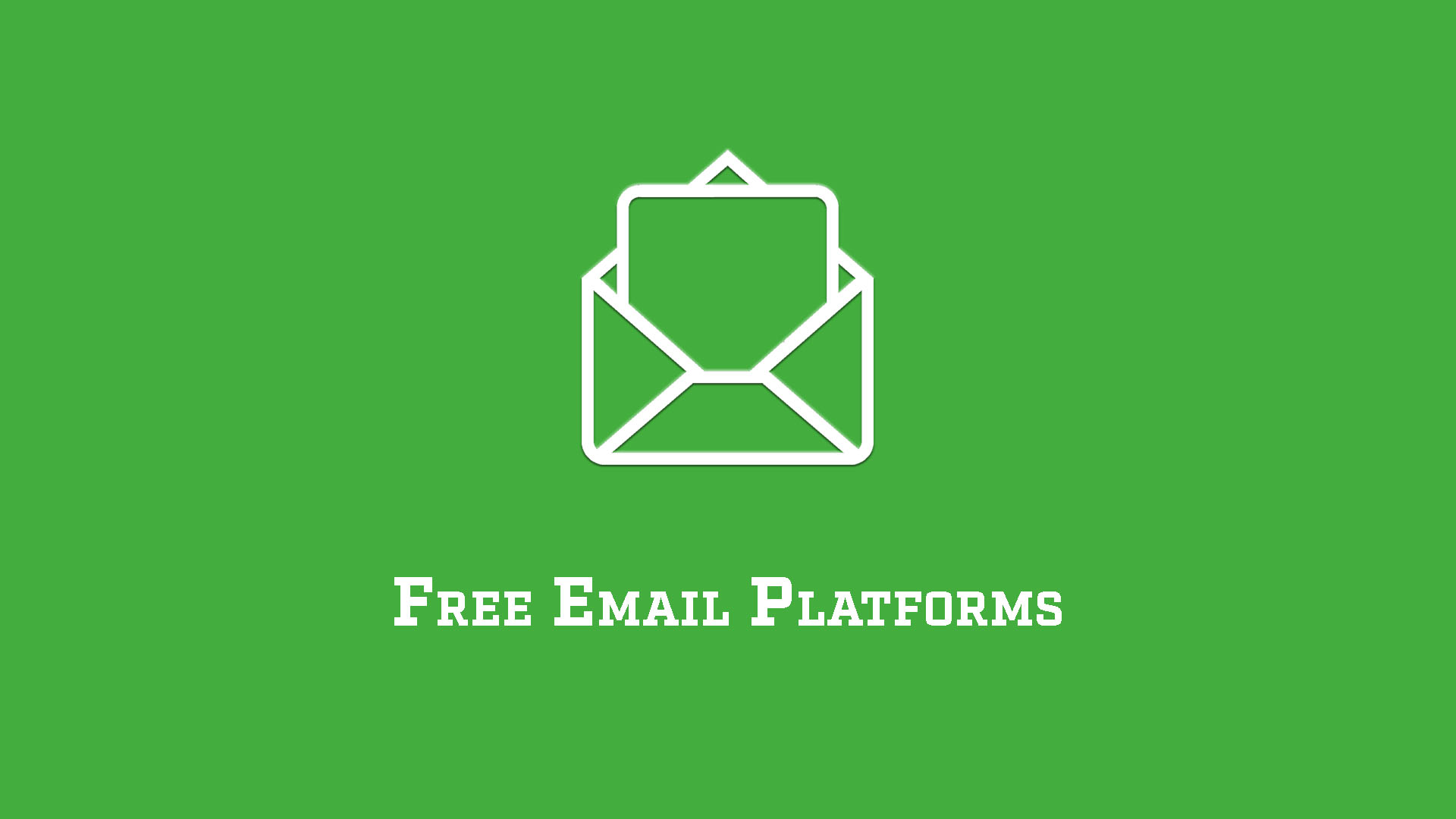 Best Email Platforms With Free Tiers
One of the most powerful tools that you have when starting a business is your email database. Making use of this by effective email marketing it's a great way to reach your customers and if you are smart about the way you do things you can start sending emails to you customers for for free. 
As soon as you start generating leads or making sales on your site you will be accumulating email addresses and contact data. Whilst you may not be setting up advanced funnels just yet it is important that you are storing contacts somewhere and communicating with them in some manner.
One of the first steps when getting started with email marketing is choosing your Email Sending Platform or ESP.  This guide will run through some of the free options which make a lot of sense when you are just starting out with your business. Of course the goal is growth and the idea is that you will move onto the paid plans which enable far more powerful pictures to be used.
How we have judged the tools.
Number of contacts allowed - most free tiers place a limit on the number of contacts you can store

Number of emails allowed - most free tiers will also place a limit on the number of emails you can send daily/monthly

Integrations - these are important as a major time saver. Some free tiers limit your connections to other apps like your store or CRM on a free platform.

Jump to the paid platform - we want you to GROW! So it is important to highlight when you would start paying for the platform
Table of Contents
A good platform with a solid history in enabling communication for SMBs. The process of designing and creating emails is simple, and the default templates are (personally speaking) nicer than most of the other platforms featured here. 
One of the main advantages is that you are allowed unlimited contacts on the free tier. So if you are going to be generating lots of leads or have lots of contacts already, this is a good option to go with. However, due to the relatively low daily sending limit of 300/day this might become problematic if you want to start sending newsletters to all your customers. 
A great way to take advantage of the unlimited contacts but low email sending limit constraint is to use the automations features. Set up a welcome email or better still, a series of welcome messages for a new subscriber. As subscribers are added they can receive communication in that crucial early stage. Great for boosting conversions. 
Sendinblue has good integrations with other platforms, and importantly they maintain the integrations themselves. Ecommerce platforms like Magento, Shopify, Woocommerce and PrestaShop are all covered as well as signup form tools. You can also use Sendinblue to send your transactional email. Other integrations are available via the Zapier connection. 
Another strong platform with a good free tier. The name may be lite, but the functionality certainly isn't - with automations, landing pages and some neat built in features like in-email surveys. There is also a strong focus on the design aspects of the drag and drop builder. 
The MailerLite free tier lets you have up to 1,000 subscribers and a generous 12,000 emails per month. That should be enough for most small businesses to send a newsletter twice per week and have some automations running too. 
For that reason it is a great platform for blogs and news sites. The intuitive email editor will allow you to create great looking and responsive emails that you can send to your growing contact database. 
MailerLite offers some integrations with the most popular ecommerce platforms, including abandon cart emails for Shopify and Woocomerce. But most of the integrations are run through Zapier which can cost extra. So this option is not ideal for ecommerce stores who want to use their email platform as a CRM system.
The best thing about Benchmark is the simplicity. It is the easiest platform to quickly send emails that look great using what they call the "Insanely Simple Drag & Drop Editor". If you aren't a design wizard, but want to send emails that look great on any device, then Benchmark is a great option. 
Benchmark does allow unlimited contacts on the free tier. But you are constrained by a monthly email sending limit of 250. This might not be an issue if you want to set up welcome emails and a few drip campaigns, but becomes problematic for newsletters to a larger audience. One of the reasons we have included it in this list and would still recommend it is that the jump to a paid tier is small at $11.89/month for <600 subscribers. This paid tier gives you unlimited email sending plus access to Automation Pro which offers powerful features like behaviour based follow-ups, Facebook customer list matching, cart abandonment emails. 
So for small companies just starting out but imagine that their subscriber count will grow quickly (eg high volume of sales) then it is a good option to go with. 
If you are running an ecommerce store then Omnisend are definitely worth looking at. The main focus of this platform is multi-channel communication. What does that mean in practice? Well, they enable you to send emails, SMS, Facebook Messages and even browser push notifications to your customers to help you sell more. They claim that customers who use 3+ channels in their marketing get 250% more engagement and purchases than single-channel campaigns.
However this advanced functionality is not available up until the Pro tier, which will set you back $80/month (paid annually). The main benefit of the Omnisend free tier is the huge 15,000 email sends per month. The highest of the platforms we have reviewed here, although there is a daily cap.
This means it is a great option for businesses who are bringing a subscriber list of around 5000 members. You can get up to 3 email sends per month for free! Be aware there is a daily sending limit of 2000. 
Some other neat features included within the free tier are a selection of email capture forms including exit-intent, and popups. Yes, these are annoying but they do work to capture emails very well. 
One of the smaller providers on this list but with a hefty 15000 emails/month and a 2500 subscriber limit they have a very strong offering at the free tier. Plus from the start you get access to all the features, unlike most providers who keep the advanced functionality for paying customers. 
For something which is pitched as more of a basic offering Sender.net has all the features that you expect to see including a simple email editor, reporting and custom automation creation using their simple designer. 
The automation workflow designer is the most distinctive feature, normally seen on far more expensive products like Salesforce Marketing Cloud. This allows you to create sequences of automated emails in a simple flow-chart tool. The ability to add conditionality to these means you can create some cool email flows based on user activity like opening emails or abandoning carts. 
Sender.net is an ideal platform for smaller operations who need a reliable email tool, but don't want to break the bank. The ecommerce integrations with Woocomerce, Magento & Prestashop mean that it can be useful for small ecommerce stores too. 
You can't write a list of email tools without including Mailchimp. It is one of the most popular email sending platforms for small businesses and blogs. So why is it last on this list, simply because at the free tier it is not a great tool. 
Mailchimp's limit of 2000 contacts and 10000 email sends per month is not bad, but the real problem with the free tier is that so many of the features are not available. At the free level you are limited to single email automated messages and many of the automation triggers are not available. 
Mailchimp's success has been astronomical and they are used by businesses all over the world. For me much of their success has been driven by an incredibly strong branding and marketing push to reach a global level of success. This has meant that focus on making a really good platform has taken a back seat.