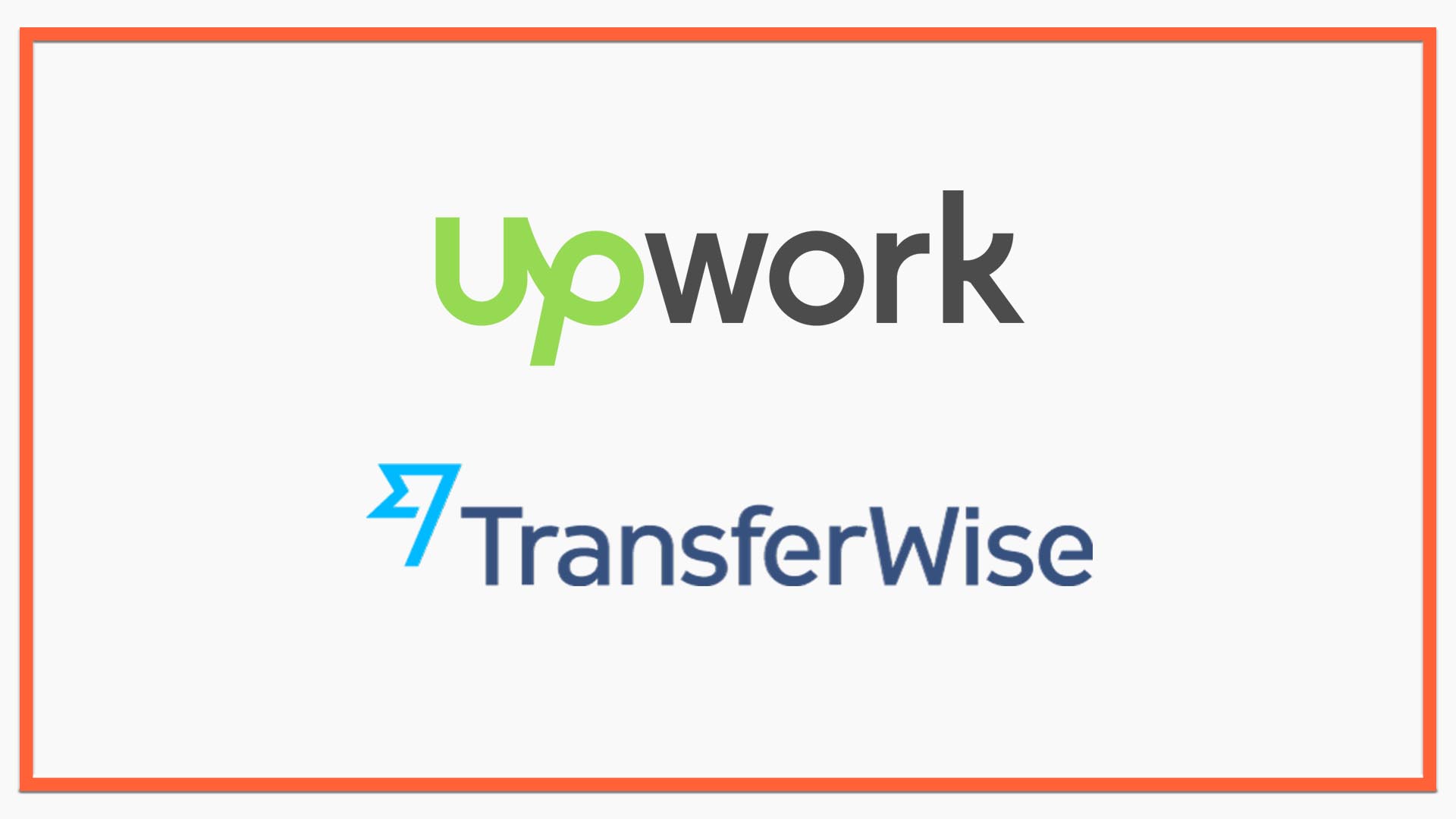 Use Wise To Receive Payouts From Upwork & Freelancing Sites
Wise (formerly TransferWise) is quite simply one of my favourite products to use. if you are a small business owner or a freelancer who deals with International currencies in any way then Wise is often the most cost-effective & fastest option when transferring to your preferred or home currency.
Video Guide
Wise is great for...

Freelancers using platforms like Upwork
Businesses who receive payouts in multiple currencies eg via Stripe
Businesses owners who want to invoice clients in their own currency
What does Wise offer
Market-leading rates up to 8x cheaper than banks
A simple solution online or by the app
Hold & manage over 40 currencies
Local account details in USD, EUR, GBP, AUD & NZD

The last point is crucial, and probably the most useful feature. With a bank account in a local currency, for example US dollars, you can receive money from a platform for free and store it in your Wise account ready to pay out in your local currency whenever you need.

This is far more efficient than using Paypal or transferring money from USD to a local currency via a platform.

Wise and Upwork

One of the many benefits of Upwork is that you can work for clients across the globe. But it is crucial to make the most of your US Dollars when converting to your 'home' currency - for example GBP, PLN, PHP.
Upwork offers a few different payout options for non-US residents. Local currency, Paypal and direct to a US bank account. If you want to make sure you are squeezing every dollar out of the money you get from Upwork then setting up a US bank account to pay out in a local currency is a no brainer as it is the only option which has no fee.
You also get far better conversion rates than Upwork offers via its transfer to local currency option.

Here is how to make the most Wise and Upwork.

Sign Up For A Free Borderless Wise Account
Wise's main product is called the Borderless Account. You can sign up for an account in a few minutes on desktop or via the app.
For a free transfer of up to $500, just use this referral link. Already have an account? You can still get a free transfer by clicking Invite > Forgot to use a link and pasting this link:
https://wise.com/invite/u/harryn54
There is no need to visit a bank branch or even sign any paperwork to open an account. All you need to do is verify your identity using a passport or identity document so that your money is secure.

Create A USD Account
In this case I would select the currency that you normally operate in. You don't have to store any money in this currency if you don't want to.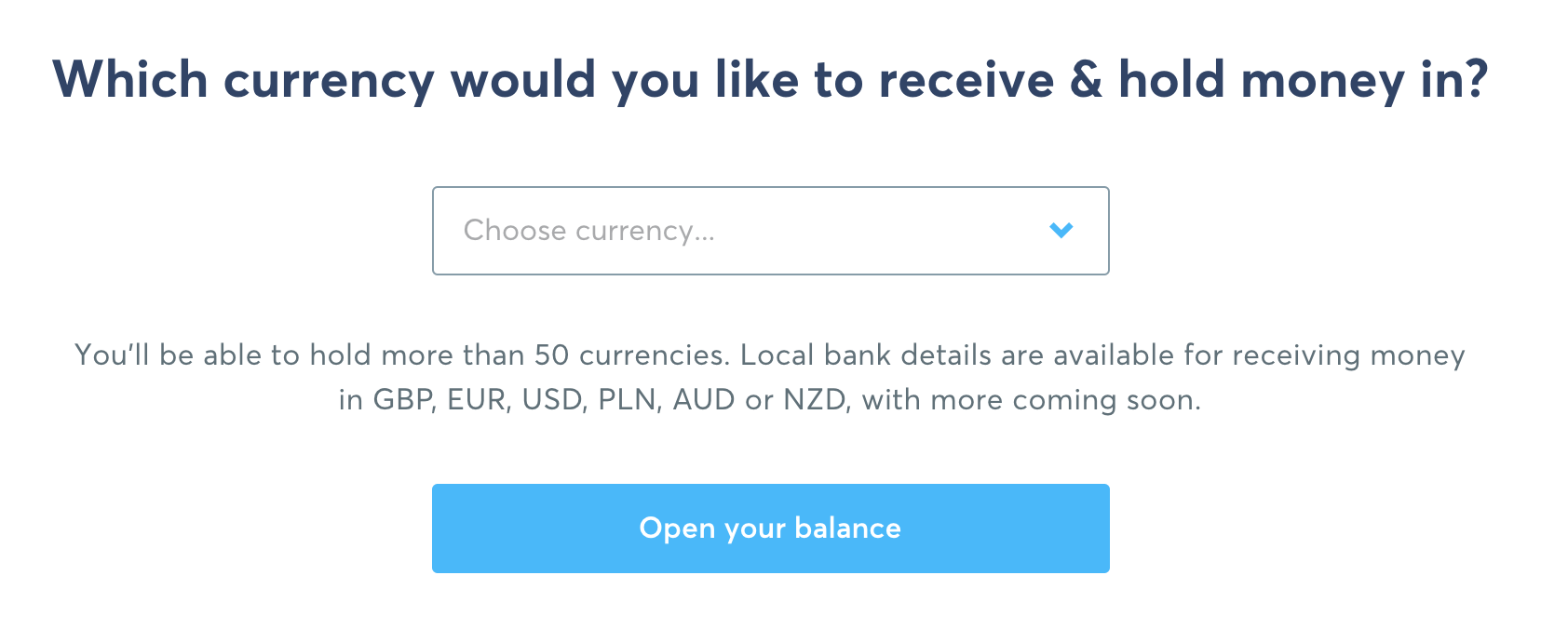 To receive USD from Upwork you will need to create a US Dollar account. This is available in all EEA countries plus many countries in Asia, South America, & Middle East but there are some restrictions and Africa is poorly represented.

Once you have created a USD balance you will be able to see the details by selecting the balance. Your USD account is just like a normal US bank account. You get an Account Number, Wire Transfer Number, SWIFT / BIC Bank Code and ACH Routing Number.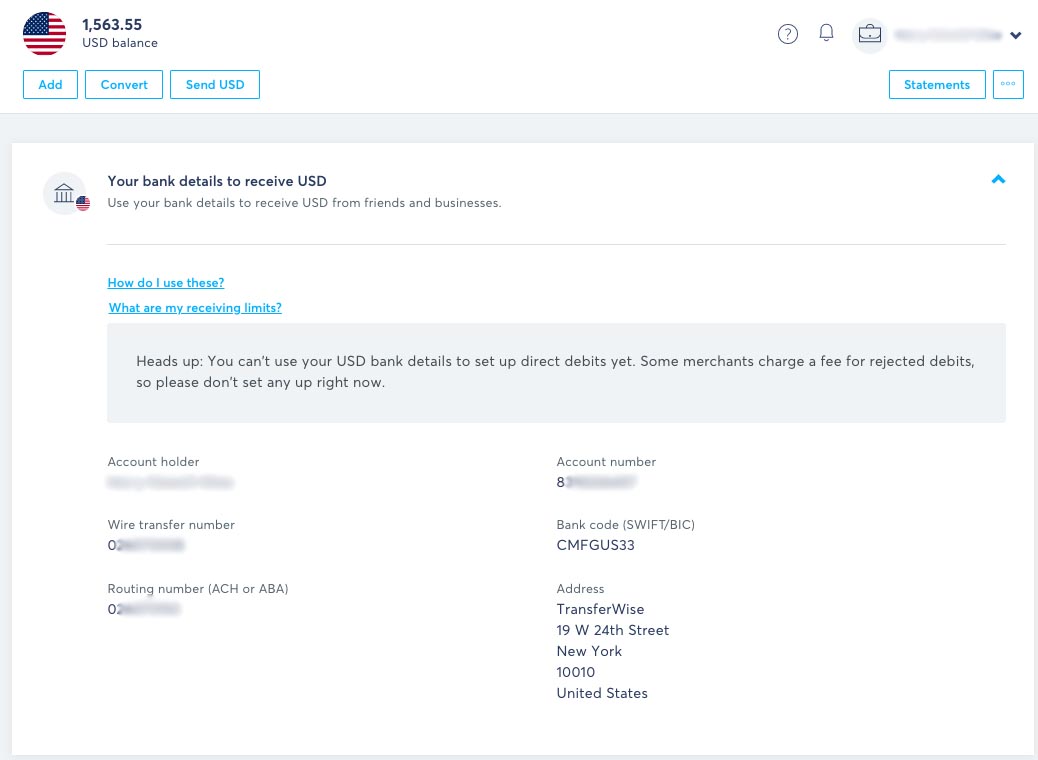 Set Up Your Account For Payouts In Upwork

In Settings > Get Paid click Add Payment Method and scroll down to select Direct to US Bank.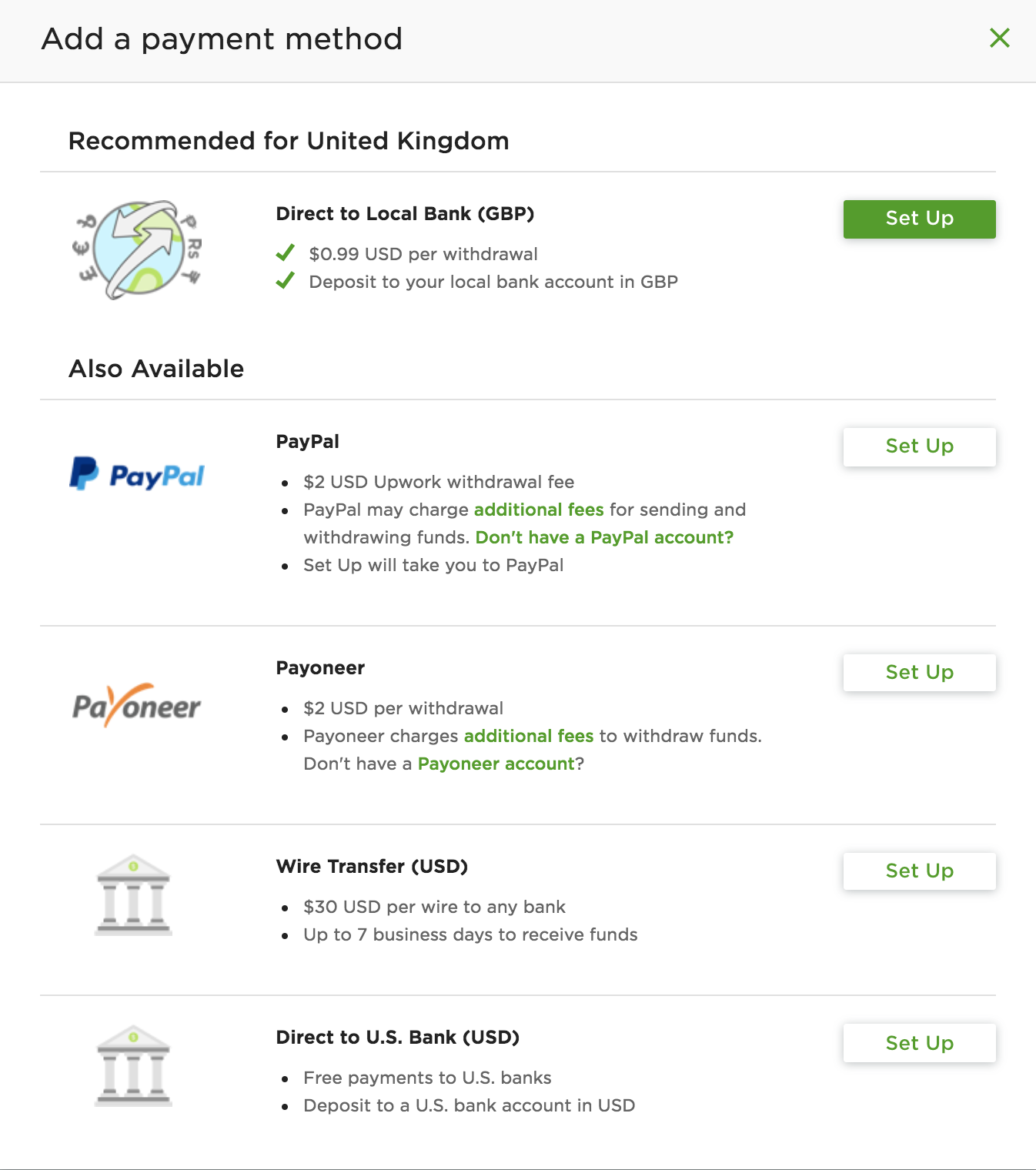 Then proceed to add your local US account details from your Wise account. You will need your ACH Routing Number & your Account Number. Triple check that these are correct, in fact copy/paste them from your account screen to ensure no errors!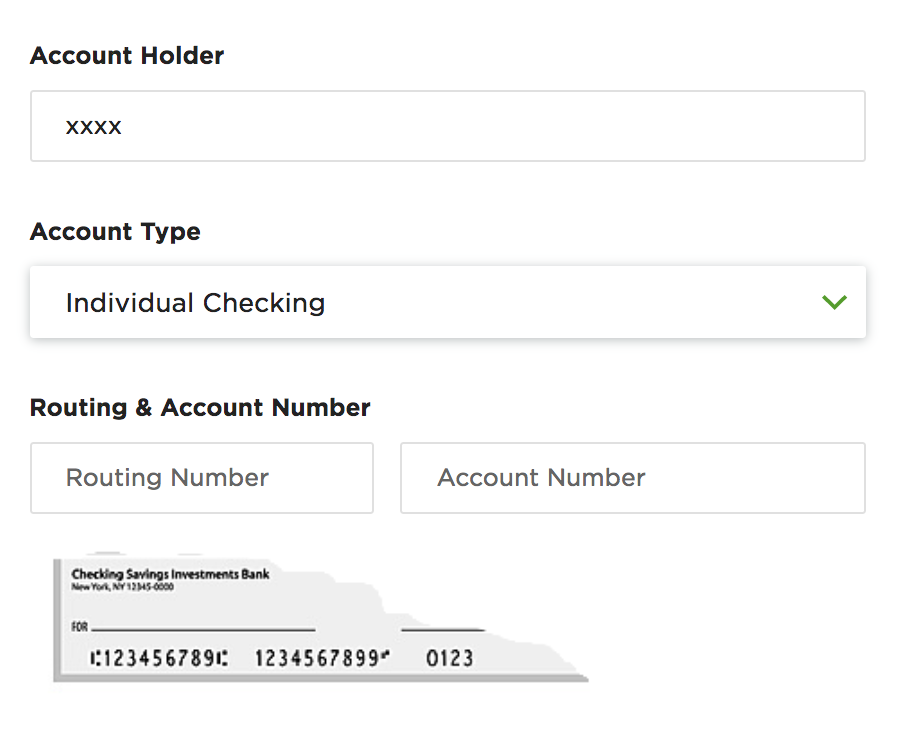 Upwork will then make 2 small deposits (2-20 cents) in your account. This typically takes 2-3 days, once you receive them you will need to log back in to Upwork to confirm the amounts.

Whilst you are here you could add a local currency account or Paypal as a backup. But remember to select your US account as your preferred payout method.
Set Up Your Payout Schedule In Upwork

Due to Upwork's Payment Protection and escrow policies your earnings do not become available immediately. See their latest policies for details on the payment schedules. However - once your money is available it is recommended to set up your automatic payouts as regularly as possible! In Upwork this is every Wednesday to your US dollar account for amounts over $100. You can pay out smaller or other amounts more frequently if you wish.

Your USD typically takes 2 business days to arrive from Upwork to your Wise account. Usually you receive a payment notification at 06:00 GMT Wednesday and receive the money at between 14:00 and 16:00 GMT on Thursday.
I am fortunate to be Top Rated on Upwork so benefit from a slightly faster payout schedule. Earnings are now available on the Friday 5 days after the completed work week. So if I manually withdraw funds on Friday I usually receive the money in my Wise account on the Monday.
Transfer Your Money Using Wise

Once you have your money in USD in your account you can do what you wish with it. But most likely you will want to send it to your preferred local account.

For a USD to GBP or EUR transfer, this process is often pretty much instant.
There are a few other options that may be of interest:
Save your USD and transfer when the rate is best. Currencies move around a lot, if you are transferring regularly and don't need the money immediately it can pay to watch the rates using a tool like Google Stocks and transfer when the rate is most favourable. With TransferWise you always get the real exchange rate and can set up a transfer very quickly when you see rates move.
Keep some USD aside for purchases. I often find myself annoyed at fees when paying in USD online, luckily I now keep a stock of USD in my Wise account and use my Mastercard Debit Card for purchases.
I hope this guide was helpful. Let me know your experience in the comments and don't forget to use my Wise referral link for a free $500 transfer.