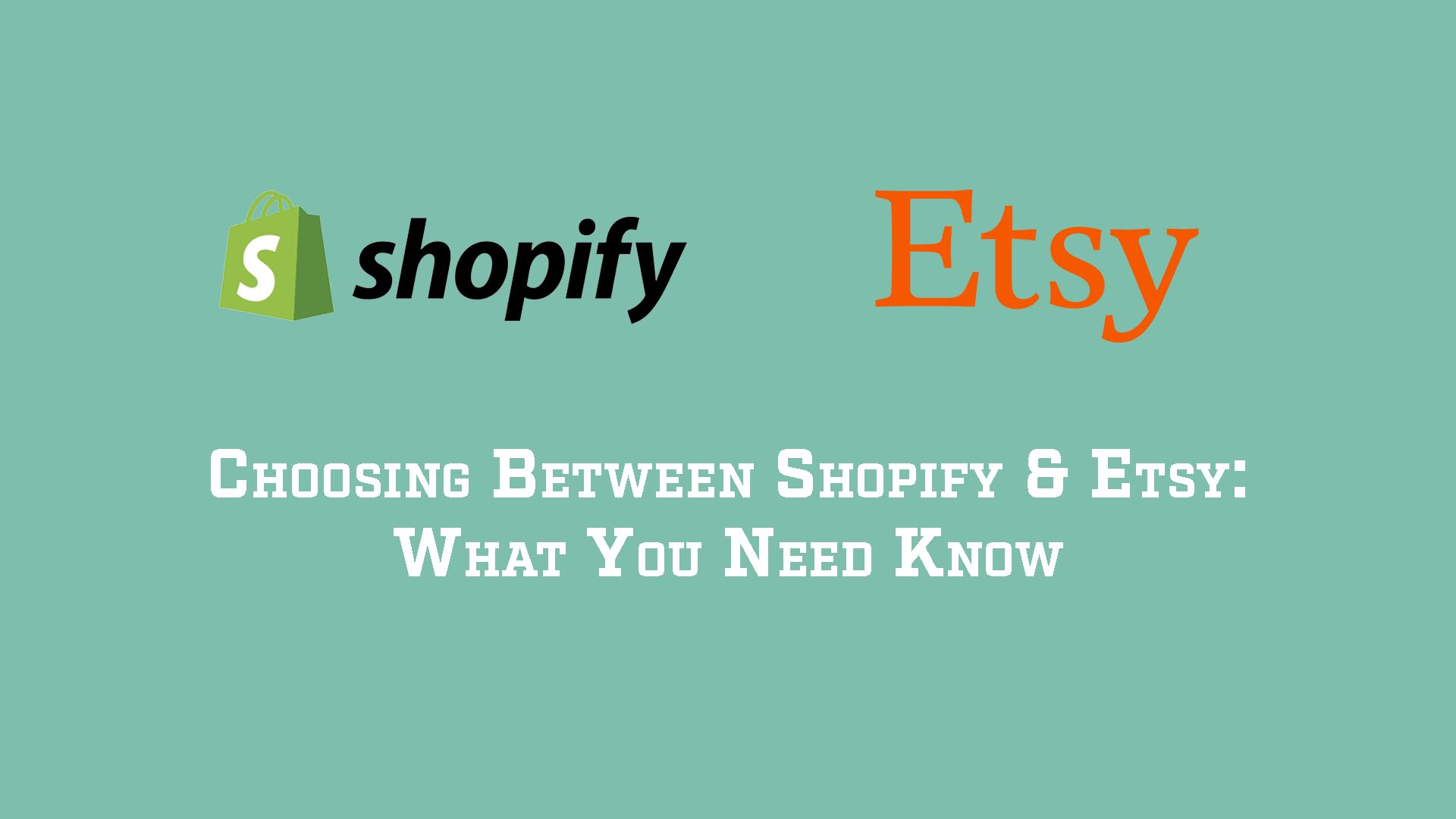 Etsy vs Shopify: The Most Important Thing To Consider
I was recently working with a new client who is just beginning to grow their business. They have a product, they know it will sell, they have started to build a brand on Instagram. But they need to make a decision on how they are going to start selling.
They came to me with the question Etsy or Shopify?
Let's break down what this question means and how we can answer it from a growth perspective.
Etsy and Shopify are platforms for selling. Etsy is much more like eBay and Amazon in that it is a marketplace. Shopify is a software company that enables you to build and run an e-commerce store yourself, similar to Squarespace or Wix.
The one that will be most suited to each business depends on:
the goals that you have as a business

your products

your proposed marketing strategy - how you plan to find customers
Lets look in detail at the 2 platforms.
Etsy is a Marketplace
This means that anyone can buy or sell on the platform. It is simple for a user to go on and search, buy and order their products. It is just as easy for a seller to to start offering their products for sale.
But perhaps most importantly it is a destination for users looking for products. Etsy has a reputation for handmade goods, home and garden items, clothes, and quirky gifts. 
If you are selling anything in this area, Etsy can be a fantastic tool for you as it is where your customers are searching for items already. If you have an item that looks great and will stand out on the search page then you stand a great chance of earning a lot of sales through this channel. 
Shopify is an e-commerce platform
E-commerce platforms are slightly different. They enable you to set up your own store and customize it to your needs. You can sell almost any physical good or digital service, within the limits of legality! 
Shopify is a great platform because it is so simple to use and quickly start selling. Without having to think about the difficulty of inventory, payment gateways, confirmation emails or security certificates. It is a big step away from Etsy in terms of the ability to customise what you want but it has that 'works out of the box' ethos which makes it such a great starting point for many business owners.
There are a huge range of ecommerce platforms to choose from. Often they come as part of website builders like Squarespace's ecommerce offering or are designed specifically like BigCommerce. Finding one that suits you is a question for another day, but this guide lays out the fundamentals.
The key difference between Etsy & Shopfiy
The main difference between the 2 platforms is that Etsy has the marketing benefits of a marketplace whereas with Shopify you are responsible for all your own marketing and promotion. 
Let's say that you run a proud Scottish business selling tartan patterned socks. With a store on Etsy you could be making sales the same day you set up the store as engaged shoppers go searching for items. As your store grows you might be featured on the website and in email campaigns as part of their Father's Day gift idea series. With a marketplace based platform there is a heavy incentivisation for the platform to boost its sales with marketing activity as when you make money so do they. 
With a Shopify store your sales are far more reliant on your own marketing activities. You will need to work on building a brand and promoting your socks however you see fit. Many marketers choose to focus on social media, email and search engine marketing as the cornerstones of their activity - but it is up to you. With a well known brand or existing social following in place you might make sales on the day your store opens but if you are starting from zero it will be hard. 
The benefits of going it alone
Selling on a marketplace has many advantages, but many business owners choose an ecommerce platform. The main reason is that you maintain so much more control over everything from the look and feel of your site, to the way your products are presented, to the care that your customers experience from your brand. 
Imagine the Amazon product page. It is easy to do right. But does your brain picture a product in place? Likely not - that is because we have become so familiar with the branding of the site and the presentation of the items that the product becomes almost secondary. If you have a goal of creating a great looking product that people want to view and buy then retaining control of the product page is a crucial element of your business and your ability to sell. 
So why not have your own site and list on marketplaces?
A lot of business owners choose to do this. This is just a different way of thinking about department stores stocking branded goods when the brands also have stores themselves. Why? Because marketplace stores that are destinations for shoppers - whether online or physical - are a great place to buy from, and can get your product fantastic exposure. Once your store begins to grow you may like to think about listing in your own store as well as on marketplaces. There are plenty of apps available that allow you to sync your product catalogue, inventory & reviews across multiple marketplaces to make store management and logistics easier.
So although when you take your first steps you may like to choose just a single platform the option to expand to multiple sales platforms is a great idea once you begin to grow. 
Did this article help your decision making? Let me know in the comments below.